When using thinner high-strength rope, sometimes you want to pull really hard on the rope, but you can't because being thin, the rope will cut into your skin.
The solution is to attach a handle on the end of the rope. The optimal shape for this handle is a triangle.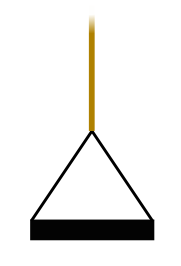 The "grip" part of the handle should be thick enough that it spreads out the load across your fingers.
The reason a triangle shape is optimal is that if you draw a vector diagram of the forces on the ends of the grip, they align with the sides of the triangle. The reason the line should attach at the ends of the grip (instead of the middle, like a T-handle) is that this minimizes rubbing against your fingers, even when flailing the handle around in circles — in this configuration, the rope is pretty stable, regardless of lateral forces. When using extremely thin+strong line (ie. Spectra/Dyneema fishing line), you want to avoid rubbing the rope against your skin, because it can cut into your skin.
buy a triangular handle
Commercial triangular-handles are available for these specialized purposes:
I've found a handle in a sailboat supply store, I don't remember what it was for... something to do with outrigging, I think.
construct a triangular handle
Get a length of 1/2" PVC pipe, about 6" long. Drill two holes, one near each end. Get a ~9" piece of paracord, and insert each end of the paracord into each hole. Tie a Stevedore knot on the end of each paracord to keep it from coming back through the hole. Tie a figure-eight-on-a-bight knot in the middle of the paracord. That completes the handle. To use the handle, tie another knot (using a sheet bend) to the figure-eight bight.
Get a length of 1.5"-ID PVC pipe, and a 1.5"-OD wooden dowel. Cut each to about 12" long. They should nestle inside each other. Coat the wooden dowel with glue, and slide them together. After the glue dries, drill two holes, one near each end of the bar. Get a metal ring, and two 12" lengths of ~1/2" climbing rope (rated to >5kN). Tie one end of each rope to the metal ring, and the other end through the hole in the bar, secured with a Stevedore knot.

This handle is much stronger, and is suitable for standing on, with one or two feet.