document updated 8 months ago, on Jan 20, 2023

Sometimes I need to search a large area for steep slopes, so I can search for new places to hike. When searching within a smaller area (~a mile wide), that's easy, you just need to know how to interpret a topographical map.

But if you're searching an area that's hundreds of miles across, that's more difficult. It would be nice to hilight areas that are within a desired range of slopes (10-30° for hiking, 30-60° for skiing).

There are GIS products that can do this:

However, an easier way to access this data is to just search for shaded relief maps of an area. When looking at a relief map, areas of maximum shadow or hilight indicate places with the steepest slope.

Fortunately, relief maps are readily available for most areas.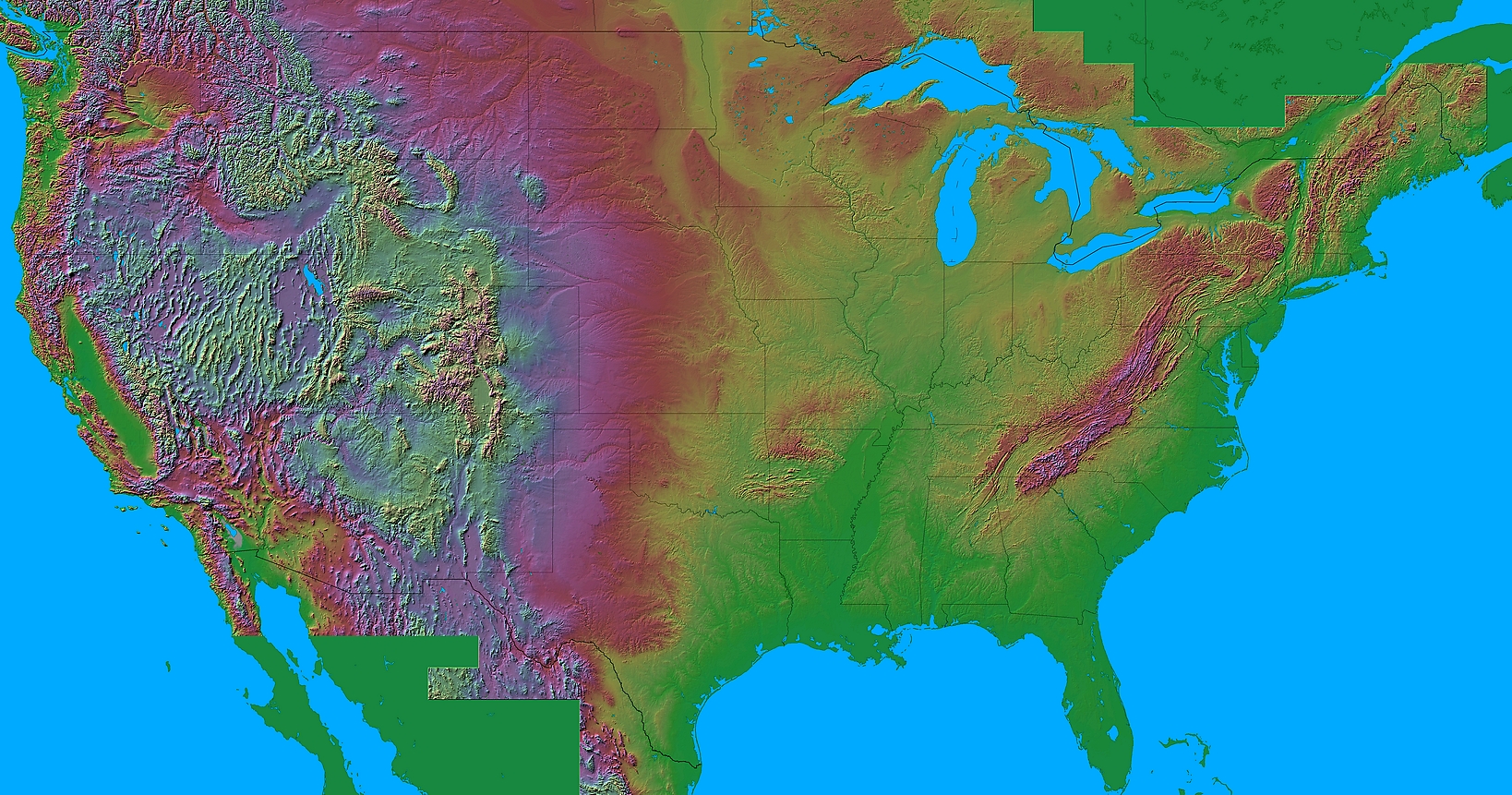 Alaska Alabama Arkansas Arizona California Colorado Connecticut Delaware Florida Georgia Hawaii Iowa Idaho Illinois Indiana Kansas Kentucky Louisiana Massachusetts Maryland Maine Michigan Minnesota Missouri Mississippi Montana North Carolina North Dakota Nebraska New Hampshire New Jersey New Mexico Nevada New York Ohio Oklahoma Oregon Pennsylvania Rhode Island South Carolina South Dakota Tennessee Texas Utah Virginia Vermont Washington Wisconsin West Virginia Wyoming the entire US
(about the above maps, including the maps' legend) (archive.org backup link)
Other, similar, maps:
topographic-map.com, a "slippy map" that's very easy to navigate, and see elevation details near specific features
slope angle maps:
An even more valuable map is when shaded-relief is displayed alongside population-density. Rugged terrain is naturally antagonistic to high population density, for various reasons (it's hard to collect rain water, it's more difficult to construct roads/buildings). However, there are a few special places where high population is able to live adjacent to rugged terrain (eg. Vancouver, Denver), and that's exactly the kind of place I want to live. This kind of map would help me search for these locations.